Founded in 1949, The Orcas Island Sportsmen Club (OISC) is one of the island's oldest private, non-profit, community organizations. The  OISC presently offers a range of shooting programs for both the membership and non-member public.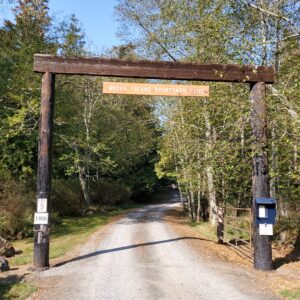 OISC is located two miles west of Eastsound on Enchanted Forest Road and includes shotgun sports fields, a large-bore rifle range, a sheltered small-bore rifle and pistol range, and a clubhouse. The small-bore range is among the very safest in the State and a Range Safety Officer or Range Master is on duty at all active ranges. We are proud of our tradition of safety, education, conservation, and community involvement.
Regular Club shooting activities include:
Various disciplines of Trap, Five Stand, small-bore rifle and pistol paper-target shooting and hundred-yardd yard large-bore rifle range.
Free instruction is offered on a limited basis for beginners, including both children and adults. Additionally, OISC hosts special events during the year to which the general public is invited.
You are welcome as a visitor!
If you would like to come to shoot on one of our ranges, or perhaps learn more about membership in the Club, come anytime during range hours,  for immediate info such as same-day range availability, call the club at 360.376.5660, otherwise call 360-317-6291 or e-mail contact@oisc.info for more information. If you show up during scheduled range hours and the gate is closed, it is due to no volunteer availability on the day. Please call 360-317-6291.